Weather in Arches National Park

If you haven't been to Arches National Park, you are missing an amazing opportunity to see some of the most amazing natural structures anywhere.  When hiking in Utah, you will want to make sure you make Arches one of your hiking spots.  Most of the well known natural formation are a quick day hike, although it is possible to hike to arches that take 2-4 hours and are not as commonly photographed or well known.
Arches National Park is a US National Park in eastern Utah. The park is located on the Colorado River 4 miles (6 km) north of Moab, Utah. It is known for containing over 2,000 natural sandstone arches, including the world-famous Delicate Arch, in addition to a variety of unique geological resources and formations.
The park is located just outside of Moab, Utah, and is 76,679 acres (119.811 sq mi; 31,031 ha; 310.31 km2) in area. Its highest elevation is 5,653 feet (1,723 m) at Elephant Butte, and its lowest elevation is 4,085 feet (1,245 m) at the visitor center. Forty-three arches are known to have collapsed since 1977. The park receives 10 inches (250 mm) of rain a year on average.
Administered by the National Park Service, the area was originally named a National Monument on April 12, 1929. It was re-designated as a National Park on November 12, 1971.

Below is a list of the many hikes available in Arches National Park. Don't forget to share your Utah hiking experience.
Trail

Round-trip Distance

Time, Elevation
Description
Easy
Balanced Rock
0.3 mi
(0.5 km)
20 minutes
Loop trail around the base of picturesque rock formation
Windows
1 mi
(1.6 km)
45 minutes
Climb yields views of three massive arches, with slightly longer and uneven return option
Double Arch
0.5 mi
(0.8 km)
20 minutes
Flat, sandy trail leads to base of the tallest arch in the park
Delicate Arch Viewpoints
100 yards

(91 m) or

0.5 mi

(0.8 km)

10 minutesor

30 minutes

Wheelchair-accessible view of arch at a distance. Climb to second viewpoint is moderately strenuous and affords slightly better view of arch.
Sand Dune Arch
0.3 mi

(0.5 km)

20 minutes
Cross deep sand to secluded arch among fins of rock. Do not climb or jump off arch.
Broken Arch Loop
2 mi
(3.2 km)
60 minutes
From Sand Dune or campground, cross meadows and slickrock to two more arches.
Skyline Arch
0.4 mi

(0.6 km)

15 minutes
Short hike on flat trail to arch that doubled in size overnight in 1940.
Landscape Arch
1.6 mi

(2.6 km)

50 minutes
Flat, popular trail to longest arch in park. Side trips to Tunnel and Pine Tree arches.
Courthouse Wash Rock Art
1 mi

(1.6 km)

40 minutes
From Highway 191 near Colorado River, brief climb up to prehistoric rock art panel
Moderate
Park Avenue
2 mi

(3.2 km)

1.5 hours,

320 ft / 98m

Steep descent into spectacular canyon. With a second driver, can hike just one way and be picked up at other end.
Strenuous
Tower Arch
3.4 mi

(5.5 km)

2.5 hours
From unpaved road, climb steeply and then cross through fins and sand dunes to arch.
Delicate Arch
3 mi

(4.8 km)

2.5 hours

480 ft / 146m

Exposed climb with no shade and 200-yard (183-m) rock ledge at end. Follow cairns.

Not recommended in peak summer heat.
Parking is extremely limited.

Double O Arch
4.2 mi

(6.8 km)

2.5 hours
Narrow ledges, exposure, rocky climbing. Spur trails to Partition and Navajo arches.
Devils Garden (full loop)
7.2 mi

(11.6 km)

4 hours
Narrow ledges, exposure, steep climbing, and few trail markers on Primitive section.

Not recommended when wet or snowy.

Fiery Furnace
N/A

(no marked trail)

No marked trails, signs, or maps. Join aranger-led tour or obtain a permit for a fee.Requires agility and careful navigation.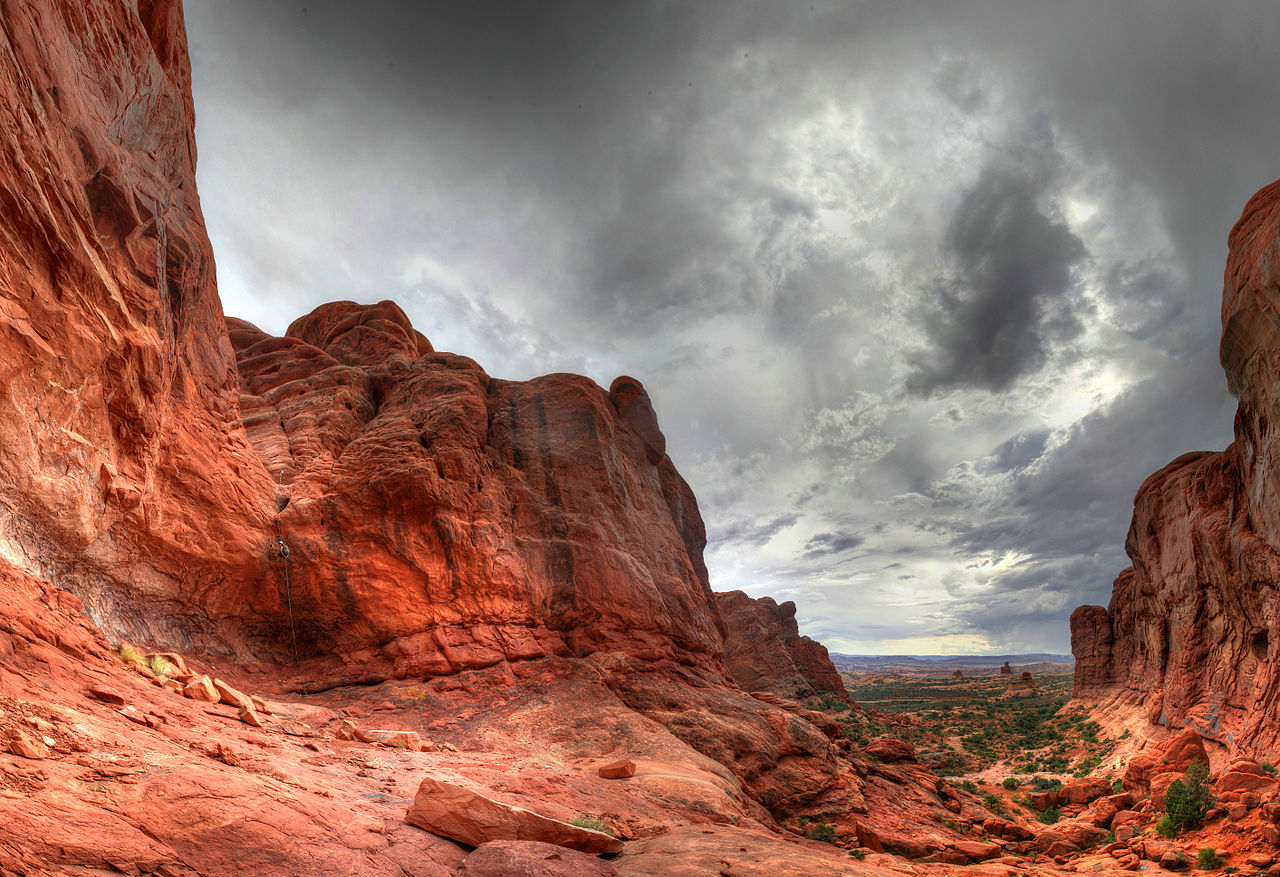 Photo Credits
Elephant Butte exit rapel" by Michael Grindstaff - Own work. Licensed under CC BY-SA 3.0 via Commons.
Delicate arch sunset" by Palacemusic - Prise de vue personnelle. Licensed under CC BY-SA 3.0 via Commons.