Description
Welcome to Goblin Valley State Park! This strange and colorful landscape is filled with bizarre sandstone rock formations called goblins. Visitors can wander off-trail to explore the geology and hike among the nooks and gnomes. This remote but very popular campground is a great base for exploring the goblins and the nearby San Rafael Swell. Spring and fall are the best times to visit, as summer temperatures can rise quickly in the high desert.
Geography:
Goblin Valley State Park is a showcase of geologic history. 170 million years ago, a vast inland sea deposited layers of mud, sand, and silt. Millions of years later, these deposits were sculpted by erosion and weathering. Softer parts of the rock eroded more quickly than harder layers, leaving behind the bizarre goblin shapes seen today.
Recreation:
Inside the park, visitors can wander off-trail to explore the endless labyrinth of goblins, or they can hike on 5 miles of designated trails. Photography, wildlife viewing, and naturalist programs are a hit with visitors to this beautiful park. Outside Goblin Valley, visitors can delve into alluring slot canyons, discover hidden rock art, and ride miles of OHV trails in the rugged San Rafael Swell.
Facilities:
24 site campground, group site, and 2 yurts with centrally located restroom and shower facilities."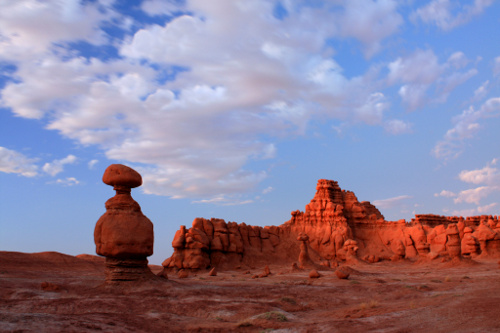 Nearby Attractions:
San Rafael Swell
Services & Amenities:
Within Facility
Ada Restrooms
Comfort Station
Drinking Water
Dump Station
Hot Showers
Interpretive/ Nature Programs
Modern Restrooms
Parking
Pets Allowed
Scenic Views
Sewage Disposal Station
Showers
Vault Toilets
Alerts and Important Information
Extreme desert landscape with little or no shade.
For information on park conditions or events please visit www.stateparks.utah.gov.
The Visitor Center closes at 5:00 pm during the winter
Getting There:
GPS Info. (Latitude, Longitude):
38.55611, -110.70778
38°33'22″N, 110°42'28″W
Located 48 miles southwest of Green River, Utah, via State Road 24.
Contact Information:
Mailing Address:
Goblin Valley State Park
BOX 637
GREEN RIVER UT 84525-0637
Phone Number:
Information: 435- 275-4584
Image By: Brian W. Schaller – Own work, FAL, https://commons.wikimedia.org/w/index.php?curid=31207771
By Brian W. Schaller – Own work, FAL, https://commons.wikimedia.org/w/index.php?curid=30527941