The Narrows in Zion National Park, (near Springdale, Utah) is a section of canyon on the North Fork of the Virgin River. The hike of The Narrows is one of the premier hikes on the Colorado Plateau. The term The Narrows refers to both the through-hike of The Narrows, and to The Narrows themselves, especially the 3.6 miles (5.8 km) long section of canyon between the end of the Riverside Walk Trail and Big Spring. The Narrows lies north of, and upstream of, the main Zion Canyon. Hiking the Narrows was rated # 5 in the National Geographic ranking of America's Best 100 Adventures.
History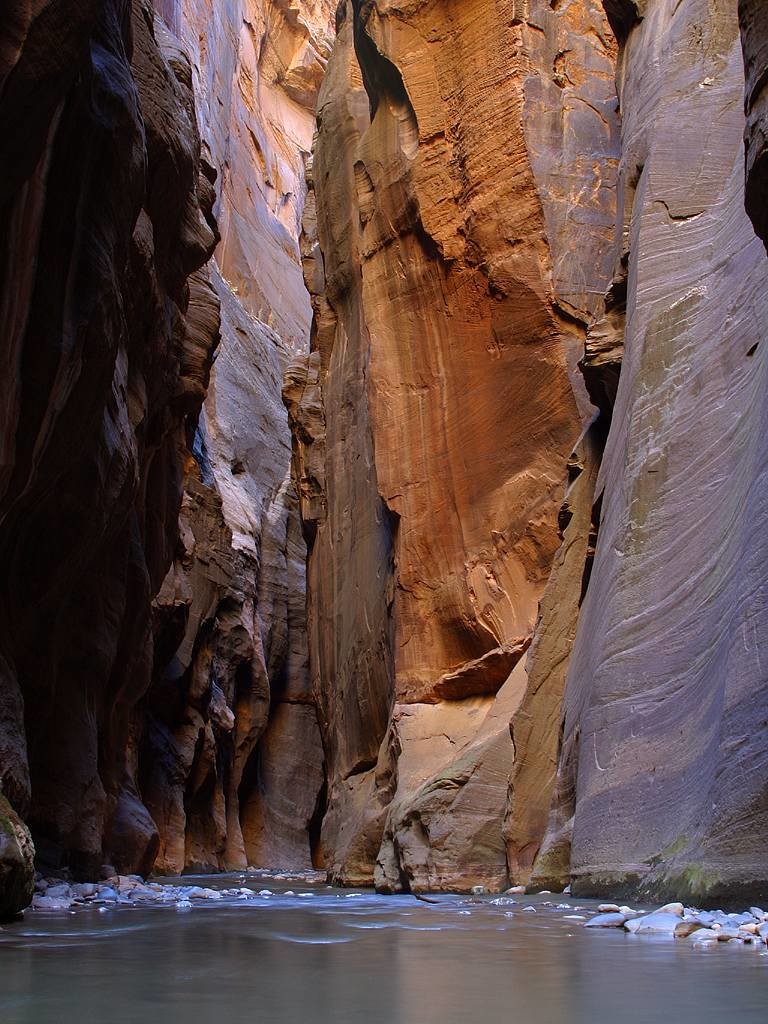 Mormon Pioneer and Explorer Nephi Johnson was guided to Zion Canyon in November, 1858 by a friendly Paiute Indian, and was probably the first European-American to see The Narrows. Soon after, in 1861 and 1862, the towns of Virgin and Springdale, just south of Zion Canyon, were founded. The next year, Isaac Behunin built a cabin in upper Zion Canyon for summer farming.
The Narrows was first descended (and named) in 1872 by geologist and explorer Grove Karl Gilbert as part of the Wheeler Survey. His party traveled from Navajo Lake through the Narrows to Zion Canyon and Springdale on horseback. John Wesley Powell had traversed the nearby Parunaweap Canyon (the East Fork of the Virgin) earlier in the same year.
From when Zion became a National Park (1919), tourists were guided up the Narrows on horseback well into the 1960s. The through-hike of The Narrows became popular starting in the late 1960s.
Trails
Seven trails with round-trip times of half an hour (Weeping Rock) to 4 hours (Angels Landing) are found in Zion Canyon. Two popular trails, Taylor Creek (4 hours round trip) and Kolob Arch (8 hours round trip), are in the Kolob Canyons section of the park, near Cedar City.  Hiking up into The Narrows from the Temple of Sinawava is popular in summer. However, hiking beyond Big Springs requires a permit. The entire Narrows from Chamberlain's Ranch is a 16-mile one way trip that typically takes 12 hours of strenuous hiking. A shorter alternative is to enter the Narrows via Orderville Canyon. Both Orderville and the full Narrows require a back country permit. Entrance to the Parunuweap Canyon section of the park downstream of Labyrinth Falls is prohibited. Other often-used backcountry trails include the West Rim and LaVerkin Creek. The more primitive sections of Zion include the Kolob Terrace and the Kolob Canyons.